We know you want to physically feel good
when you finish a productive day at your computer
We believe your office space shouldn't be a painful one.
You have a busy life, the last thing you need to worry about compromising is your health for the sake of a paycheck. You deserve to have a workspace that creates productivity and comfort you can call "A Happy Place."
We get it. Since 2017, we've been obsessed with helping employers and employees alike invest in physical health with quality, aesthetically-pleasing furniture for a work environment that inspires peace of mind.
What could you do if your office was a work sanctuary?



BUILD YOUR WORK SANCTUARY
Create a healthier
and more productive
work environment.
Ergonomic furniture helps keep your entire team comfortable, especially during long hours


Sit-stand desks are known to improve moods and increase energy levels throughout the day


Alternating between sitting and standing helps improve posture and circulation


Adjustable-height desks are an obvious investment in your team's well-being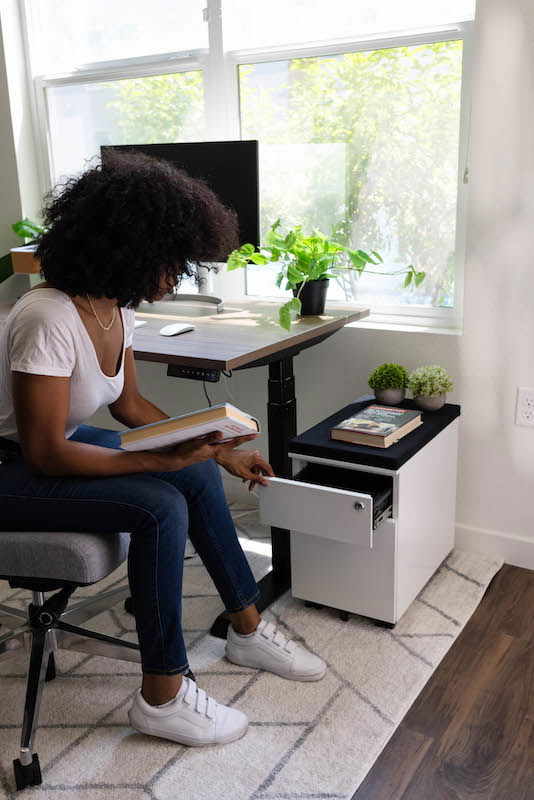 ORDER EASY. WORK EASY.
We exist to make working easier,
including ordering for your next workspace.
Show us a more competitive offer and we'll make sure you're getting the best deal, apples to apples

Need more than just furniture? Reach out to learn how we can help with design, installation, or office moves.

We back our products with a quality guarantee - or your money back!

Orders within the contiguous US typically ship next business day

We will work with you every step of the way, from design to delivery
3 Steps to Create Your Happy Workspace

Visualize, then customize the perfect ergonomic workstation

Order your personalized ergo set-up and track your delivery

3. Operate at
Your Highest Level
Experience increased production, creativity, health, and happiness